FxPro Encourages Greater Transparency
FxPro Financial Services Ltd ('FxPro'), an award winning global forex broker today announced it will be publishing operational metrics for its business. From October 2011 these will be released and published on a quarterly basis.
August 2011 was a record month for FxPro with volumes reaching $115.4 billion, 57.6% higher than August 2010 and 18.5% higher than July 2011.
The most popular currency pair was EUR/USD which accounted for 49.5% of the volumes traded, with GBP/USD the next most popular at 15.6%, and AUD/USD accounting for 5.3%.
Trading from Asian clients continued to grow contributing 49% of volumes. European clients contributed 35%.
FxPro had 18,158 tradable accounts at the end of August 2011. Of those 10,814 traded during the month up by 5.8% from July 2011 and 13.5% higher than August 2010 - executing a total of 1,928,752 trades.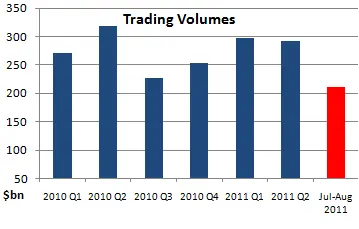 In Q2 2011, trading volumes were $292 billion, down 1.7% from Q1 2011. Revenue was $23.42 million, up 36.6% from Q1 and revenue per million traded was $80.10, up 38.8% from Q1. At the end of Q2 active accounts were 14,574, down 2.4%.
Denis Sukhotin, Founder of FxPro commented: "As a leading global forex broker, FxPro believes it is important for us to encourage greater transparency in the industry. The quarterly release of our business' operational metrics is another step towards achieving this. Informing traders of the metrics will help them better understand the dynamics of the forex market."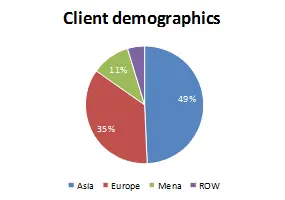 Past performance of CFDs, or their underlying securities, is not a reliable indicator of future results.
Notes:
An tradeable account is an account that has sufficient funds to execute a trade.
An active account is an account that has executed at least one trade in the last 3 months.

Charalambos Psimolophitis
aboutUs_teamCEO

Ilya Holeu
aboutUs_teamMarketing
Back to all Press Releases